Democrat - November-December 2008 - (Number 111)

Report by Brian Denny
Rail workers march against EU diktats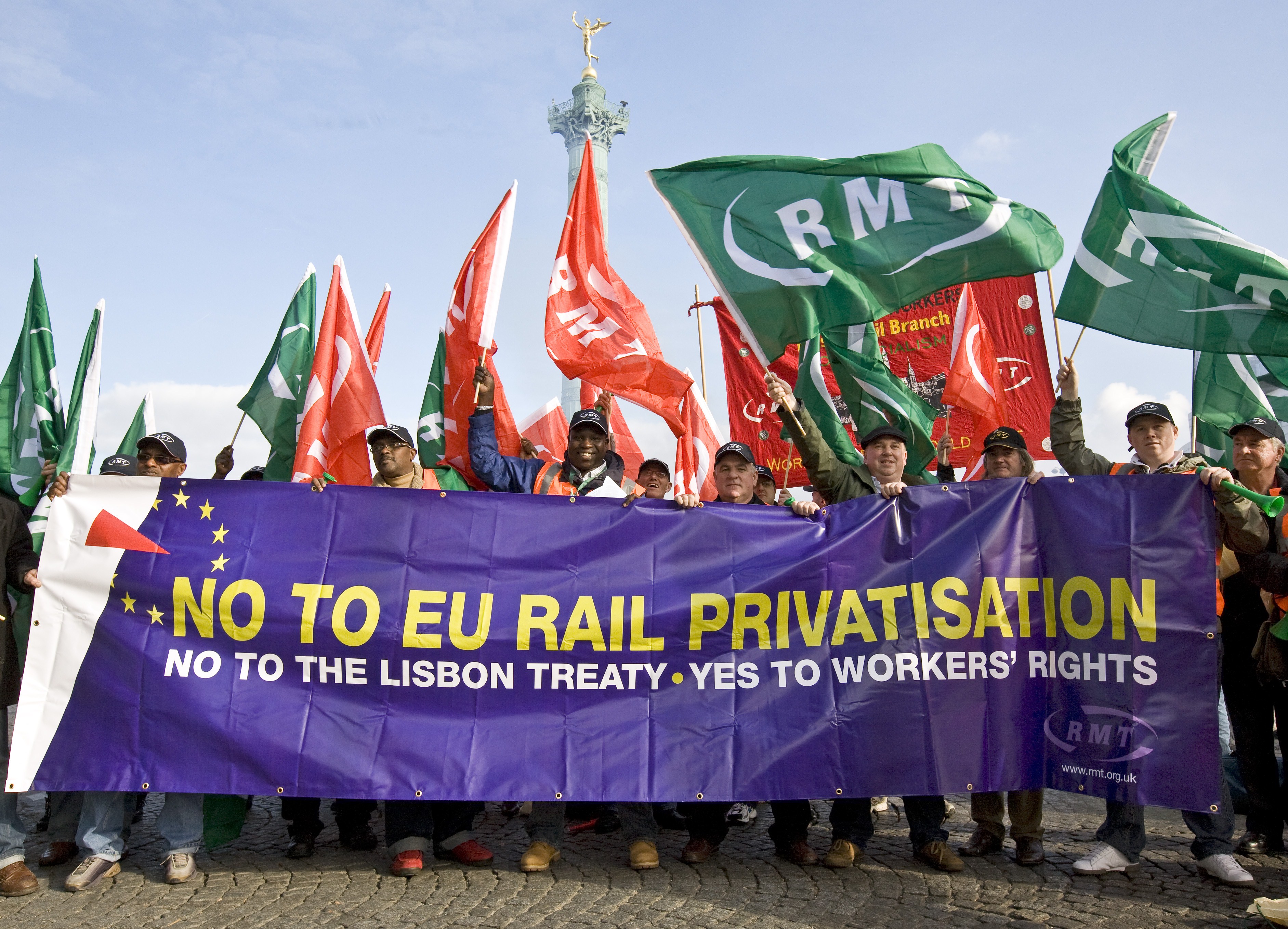 Around 25,000 trade unionists from across Europe took part in an international protest in Paris on November 13 against EU diktats demanding the break-up and privatisation of rail networks in all member states.

"We have experienced now in Britain full-scale privatisation of railways -- infrastructure, trains and maintenance -- with disastrous results for safety and the quality of service to the public," said Alex Gordon, of Britain's National Union of Rail, Maritime and Transport Workers.
"We're here to tell the peoples of France and Germany and other European countries that are now being threatened with these same policies: don't make the same mistake that the British made," he said.
French CGT union leader Bernard Thibault said that the international capitalist crisis had shown the limits of the markets. "We have a president of the republic who said a few days ago we have to draw the lessons from the global financial crisis and that not everything can be run according to the rules of the market. That's certainly true of public transport," he said.
British Rail was privatised in 1996 under EU directive 91/440/EEC and subsequently three EU rail packages have demanded the 'liberalisation' of rail freight by 2005 and the privatisation of international passenger services by 2010.
However, the European Commission has attacked 24 member states for failing to comply with EU rail diktats is some way or another.
As well as delegations from Belgium, Germany, Austria, Britain, Hungary, Norway, Russia, Ukraine, Portugal, Spain, Luxembourg and Italy, six French rail unions took part in the march.
On the march, the European Transport Workers' Federation general secretary Eduardo Chagas spoke against "the proposed rail freight liberalisation by the European Commission which is preparing to auction off freight to those operators who can pay.
"There is a need to develop rail as a public service but the current strategies are nothing other than for the market, so we are saying enough is enough. We must reverse this policy, this obsession with liberalisation," said Chagas.
"All rail workers are aware that private operators see safety regulations as a constraint, a fact which may ultimately affect the safety of passengers", warned Didier Le Reste, head of the CGT-rail workers union.
In a further sign that EU rail privatisation plans are going off the rails, the sale of just 25 percent of German railways Deutsche Bahn Mobility Logistics, a unit operating passenger and freight trains, was called off recently due to the global financial crisis.
See also RMT General Secretary Bob Crow - "Say No! to EU rail privatisation"