Democrat April-May 2007 (Number 87)
"Reject EU Constitution"
says Marta Andreasen


EU Commission's former chief accounting officer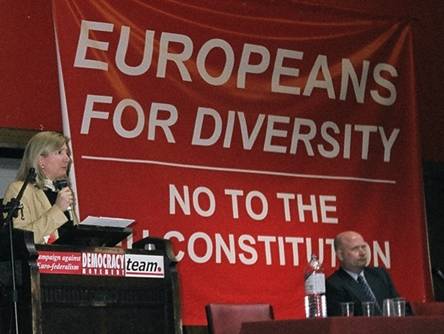 "On the basis of my experience I believe we are at great risk if we vote for a constitution that increases the powers of institutions which have proved up until now to be totally unaccountable and non-transparent. European citizens deserve better, and if we let go of this opportunity to express our dissent, there will not be another opportunity", Marta Andreasen told the Rally at Conway Hall on 9 April 2005.

Mrs Andreasen said that her sacking by Neil Kinnock, the self proclaimed 'anti-fraud Tsar' of the Commission, for trying to make European taxpayers aware of the massive levels of fraud and waste taking place, "demonstrated the level of accountability, transparency and integrity that can be expected from the EU institutions". Marta Andreasen pointed out tshe was sacked by Baron Kinnock on grounds of 'disloyalty' to the EU while officials involved in the Eurostat scandal have not been suspended, let alone dismissed.

"This fraud consisted in the discovery of slush funds belonging to the Commission that were being channelled to unofficial bank accounts and used for unauthorised purposes. Nobody was held responsible. The Commissioners claimed ignorance", said Mrs Andreasen.

She drew attention to the fact that the EU Constitution will confirm, under protocol 7, immunities from legal proceedings for all officials, even after they have left office.

Yet, Mrs Andreasen is now unemployed and having to fund her own legal action against the Commission for wrongful dismissal. She went on to say she had been judged and removed from office by Commissioners "who have been managing the EU funds on a system that they knew was open to fraud".

In answer to a question from the packed audience, Mrs Andreasen said that she believed she had been sacked, together with other courageous officials who have tried to draw attention to the fraud issue, in order to send out 'a message' to anybody else thinking of going public.

Mrs Andresen further pointed out that the current chief accountant had stated that he was "not responsible for the amounts stated in the EU accounts nor responsible for the correctness of the payments made in the EU budget".

She went on to say the Constitution would make the situation worse than it is already in relation to fraud.

In recognition of her courage in not giving way to the EU Commission and Baron Kinnock, the audience gave Mrs Andreasen a standing ovation.