Democrat May-June 2013 (Number 135)

EU attacks wages and
collective bargaining
Report by Brian Denny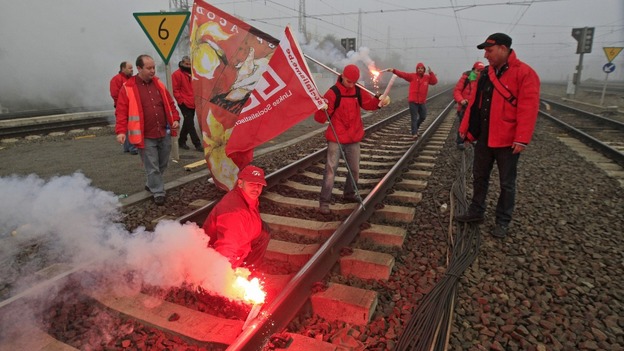 Over 30,000 Belgian protesters marched through Brussels in June against a wage freeze demanded by the European Union.

   The Belgian government has already implemented harsh EU austerity measures but economic affairs Commissioner Olli Rehn has announced that wages needed to be cut by next year or face a 780 million Euro fine.

   The EU has been targeting the Belgian wage setting system for years now, but without success. Now the Commission is demanding that Belgium must "fundamentally reform" its "wage norm mechanism".

   The Commission is testing new powers it has acquired over the past years over the economic governance of member states and to control wage levels. Belgium has been singled out to be the guinea pig.

Collective bargaining is also being hollowed out by EU diktat and European court rulings, severely weakening trade union powers to defend their members.

   Even the EU-backed European Trade Union Confederation general secretary Bernadette Segol identified two fronts where collective bargaining is coming under attack: the decentralisation of bargaining and allowing employers to ignore trade union bodies in favour of non-union bodies.

   Addressing the theme of Social Europe, she points out that "policies that are being implemented are attacking industrial relations system, are putting pressure on wages, are weakening public services and weakening social protection.

   "These are the core aspects of the social model," confirming the view of many observers that the model is now dead - if indeed it was ever alive at all.

The attack on trade union rights has been most intense in countries that have received financial 'bail outs' such as Greece, Portugal and Romania. The 'troika' of the IMF, the European Commission and the European Central Bank puts strenuous conditions on the loans which really only pay the debt owned by Europe's largest banks rather than the country.

   In Romania national wage bargaining has been abolished and new rules have proved so complex that collective bargaining has almost ground to a halt.

   In Greece, Spain and Italy companies are now legally entitled to set worse terms of employment under the guise of EU demands to increase economic 'competitiveness'.

   The EU is insisting that the austerity drive will increase 'competitiveness'.  Greek employers and the state has driven down wages dramatically but there is no sign of economic improvement. In fact, the attack on Greek wages is more likely to have led to a weakening of the overall economy.