Democrat June 2000 (Number 44)

How the EU Operates
Creeping European Union
Schengen and the movement of people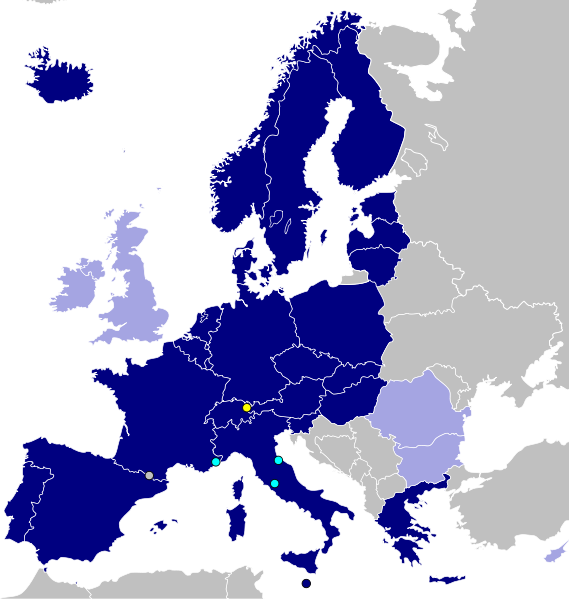 Schengen Agreement
Britain moved closer towards harmonisation of European Union immigration law on May 29 by joining the internal security arrangements of the Schengen agreement.
British police and other law enforcement agencies will now have access to the Schengen Information System, an EU-wide computer database monitoring `undesirables'. Under the 1985 Schengen pact EU states must abolish their borders and harmonise immigration law by adhering to the 142 articles of the accord.
Speaking at the EU Justice and Home Affairs Council in Brussels, the Home Secretary, Jack Straw said that there were "clear benefits" from Britain's admission to parts of Schengen: "The conclusions of the Tampere Council last October showed that the UK can play a leading role in Europe and in particular in the Crime and Justice agenda.
---
---
"We initiated measures that will lead to a European Police College, a Task Force of European Police Chiefs, mutual recognition of judicial decisions," he said.
Britain has opted out of sections of the agreement that would remove frontier controls. Mr Straw also signed an agreement with France to crack down on illegal immigrants using the cross-channel Eurostar train. Under the deal, British officials will be able to check the papers of passengers heading for Britain who board the Eurostar in France.
Similar arrangements are already in place with Belgium, but legal technicalities meant a new agreement had to be struck with France.
Despite the fact Britain has not been a full member of Schengen it has introduced similar legislation, including all the Asylum and Immigration Acts since 1996, which include restrictions on the freedom of movement, the withholding of work permits and the introduction of a voucher system.
Brussels temporarily suspended the Schengen agreement between France and Spain last year to block Basque nationalists travelling from Spain to southern France to join a protest there.