Democrat July-August 2012 (Number 130)

EU rail model rolled out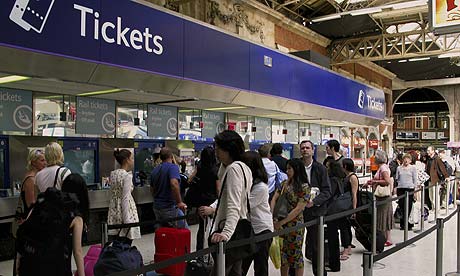 The latest rail fares rises of up to 11 per cent shows exactly what Europeans have in store as the EU privatisation model is rolled out across the continent.

The Con Dem government has given the green light for train operating companies to increase rail fares by three per cent more than RPI inflation, meaning large price hikes on most rush hour travel, season tickets and off-peak fares.

It also gives TOCs the power to increase some fares by even more, allowing operators to charge passengers up to 11 per cent more for train travel from January 2013.

The government's Rail Command Paper based on Sir Roy McNulty's Rail Value for Money Study has already set out proposals for TOCs to shed thousands of station staff, guards, catering staff and ticket offices to slash costs.

In a test case, train operator London Midland has submitted proposals for closures and reductions in operating hours of more than 80 ticket offices on its network, leaving many stations devoid of staff.

This EU business model for rail is remarkably similar to the McNulty report which demands even more fragmentation and more privatisation of the rail industry.

Brussels also recently unveiled similar plans for brutal market mechanisms to replace the concept of a publically-funded social railway for all with a 'single rail area' dominated by monopoly capitalism.

The Scottish government's transport agency Transport Scotland recently produced a consultation paper which refers to EU rules just as the European Commission is urging the further "unbundling" of railway companies across Europe.

"The European Union's First Rail Package requires a degree of separation between the organisation which operates the rail infrastructure and the organisation which operates the rail passenger services.

"It also requires that there is a level of separation between both these organisations and government," the consultation said.

The consultative European parliament has rubberstamped Commission proposals to impose the EU model for railways – fragmentation, separation and 'liberalisation' – across the continent.

To do this all EU rail directives have been 'recast' in order to 'establish a single European railway area'.

This EU privatisation model, first implemented in Britain, demands a split between train operations and infrastructure and 'open access' rules in order to fragment the industry to force market mechanisms into the industry.

Now the Commission is seeking to break up "holding companies" by which France and Germany have maintained a common parent company with separate accounts to avoid outright privatisation.

The new 'recast' EU rail package also demands further fragmentation with "more flexible" service facilities for train maintenance, cleaning, refuelling and shunting to boost outsourcing and subcontracting in rail services.

The directive also encourages private finance initiatives (PFI) for design, commission, development and operation of railways and repeals legislation on safety of staff, rolling stock, working conditions and social rights of workers and consumers, and imposes strikebreaking clauses in commercial rail contracts.

The EU's aim is to fragment national rail systems to ensure permanent private ownership and bumper profits for investors achieved on the backs of cuts to safety, jobs and services.

Transport Scotland admits fares will have to go up, and services could be more overcrowded on certain routes and there will be slower trains. This move fits with the EU drive to break up national rail services in the interest of maximising opportunities for the rip off merchants from the private sector.