Democrat - March-April 2009 (Number 113)
NATO/EU military-industrial-complex
1. World's Spy Champion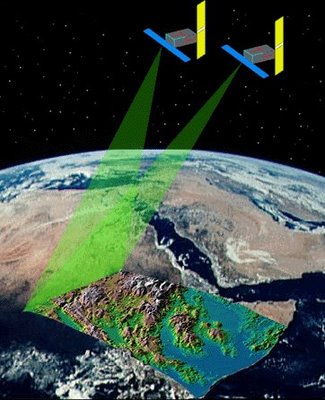 Having launched a new reconnaissance satellite-based system, the German Bundeswehr is celebrating its enhanced capacity for carrying out independent military operations. The SAR-Lupe system, which had achieved full operational capability at the end of 2008, has catapulted the German Armed Forces into a position of world leader in radar based reconnaissance, according to a high-ranking officer. With this "new instrument at its disposal" Berlin can "at its own political volition, gather exclusive and global data independently."

This new reconnaissance capacity has drastically reduced Germany's "dependence on other countries" in the field of security policy.

Moscow played a key role in supporting the development and provided the rockets to put the satellites into orbit. The system of five satellites will foster the trend toward independence from Washington. The spy satellites will not only provide information to the Bundeswehr but also to the foreign intelligence service. The images that can be retrieved by radar day or night and under any weather conditions will also be at the disposal of the Federal Office of Criminal Investigation. Only 10 hours notice is required for a satellite to be in position to take pictures. These will not be as good as photography but can detect objects 50 cm wide (20").

The SAR-Lupe programme is also a key element of a joint reconnaissance initiative signed between Germany and France four years ago. In the treaty, the two nations agreed to share data from each country's reconnaissance satellite system.

France will be allowed access to German SAR-Lupe imagery, while French optical and infrared data from the Helios 2 system will be shared with Germany, according to the agreement. (Based on German Foreign Policy Correspondents—6.3.09) see full report at: German Foreign Policy correspondents website
---
2. NATO - Stategic Concepts
The debate about NATO's future intervention strategy is gaining intensity prior to the war alliance's 60th Anniversary at its April Summit, where, in the light of tensions developing between the principal western powers, a new "strategic concept" is to be initiated. The Secretary General of NATO insists that this concept stipulates when NATO members will intervene in alliance and when they can intervene independently.
The relationship with Russia is to be more precisely defined. These demands are directed at Germany, which, over the years, has been seeking to enhance its independence from the USA, to become a world power. This is the objective behind cooperation with Moscow. Transatlantic forces in Germany are warning that one should not base ones future on a declining power and plead for Berlin rapprochement with Washington. A northern expansion of NATO is included in their proposals. In light of the rivalry over natural resource deposits at the North Pole, the war alliance should reinforce its position in the Arctic - against Russia.
More on this can be found at German Foreign Policy correspondents website
---
3. EU Permanent Navy Mission
The international deployment of warships at the Horn of Africa is being accompanied by transatlantic rivalry. Two dozen frigates and destroyers from more than a dozen nations are engaged in anti-piracy operations in one of the world's most important maritime trade route regions. At the same time, leading western powers are insisting on separate command structures. Whereas the EU is putting its first naval mission to the test, the USA has, for its part, founded a new multi-national alliance, which also includes European nations. Therefore the EU and the USA are for the first time entering into military competition with one another and struggling for the leadership. At the same time, with the construction of several naval bases, Russia is strategically strengthening its position in the region. The German base, in this contested region, is located in Djibouti. Naval circles are beginning to prepare public opinion to accept the permanent presence of German warships at the Horn of Africa.
More can be found at: German Foregin Policy correspondents website,