Democrat April-May 2010
Report by Brian Denny
Protesting against EU rail 'liberalisation'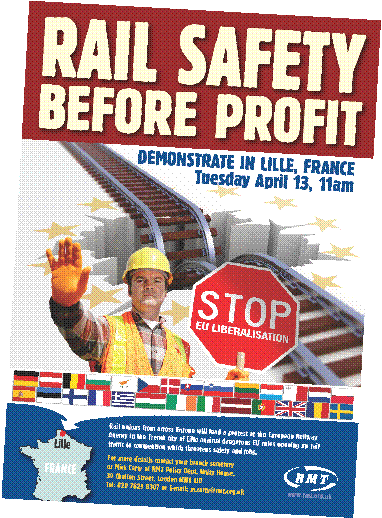 Transport union RMT is joining forces with other unions and campaigning groups across Europe to protest in Lille, France on Tuesday April 13 2010 to demand 'Rail Safety - Not EU Rail Liberalisation'.

The demonstration is in the French city as it is home of the European Railway Agency, which is implementing dangerous EU rules opening up rail traffic to competition which threatens safety jobs.

Anyone that wants to see what happens when a state fragments and opens up rail services to the private sector, as demanded by various EU directives and rail packages, need only look at the dreadful experience in Britain. Yet under the European Commission's third rail package, all EU international passenger rail services must be opened up to 'competition' as of January 1 2010.

Under the Lisbon Treaty, which came into force last December, transport issues are now covered by Qualified Majority Voting (QMV), effectively abolishing national vetoes and handing further powers over transport to EU institutions. Both of these developments, which no electorate has voted for, have unleashed an orgy of takeover bids and rapidly accelerated moves towards the creation of huge rail monopolies dominated by France and Germany.

Rail privateer Arriva is in talks with French state-owned rail operator SNCF over moves to create a European transport group with revenues of about EUR6 billion. Arriva, which has already a presence in Europe, is in talks with SNCF over a combination of Arriva and all or part of Keolis, its transportation business.

Combining the operations of Keolis and Arriva would give the French operator access to private sector expertise on winning franchises and marketing to run a railway in a competitive market as set out by EU rules.

Arriva, which runs most of Wales's train services as well as CrossCountry trains, has managed to grab a share of the EU-led rail privatisation bonanza in Europe by bidding for local authority contracts and franchises as they come up. Its European division reported £1.4 billion in revenues for 2008 but lacks a significant presence in France to match its operations in other big European countries and Scandinavia. Adding Keolis to its business would transform the size of Arriva, in order to compete with its larger rival FirstGroup.

Keolis's turnover was EUR3.2 billion in 2008, with 56 per cent of that from France and the remainder from international operations. The company has minority stakes in several UK rail operating companies, including a holding in Govia - the operator of Southeastern, Southern and London Midland - with Go-Ahead group.

Some EUR200 billion of European transport services remain in state hands and the new EU rules, combined with tight budgetary pressures set out in the EU treaties, will promote privatisation and compulsory tendering.

SNCF is basically preparing for a battle, primarily with German-state owned rail operator Deutsche Bahn, over control of Europe's rail passenger lines. Similarly, Deutsche Bahn is scrambling to win control of rail services outside its homeland. It already owns Chiltern Railways and has taken over the UK rail freight monopoly English, Wales and Scottish railways, which is now renamed DB Schenker and is cherrypicking operations in the drive for profits. As a result DB Schenker is shutting down Trafford Park - the company's "flagship" depot in the North West - and Falkland Depot in Fife Scotland.

"It is breathtaking hypocrisy for bosses at DB Schenker to spout off about rail freight and the environment at the same time as they were drawing up plans that rip the heart out of rail freight in the North West and in Fife," said RMT general secretary Bob Crow. These closures are a massive kick in the teeth for the industry and the regions affected but the devastating impact of rail liberalisation is of little concern to the unelected EU institutions that dreamt them up in the first place.

DB has said that it also wants to compete with Eurostar in running passenger services through the Channel Tunnel. Deutsche Bahn wants to run its 186mph InterCityExpress (ICE) service between London and Cologne, but current tunnel safety rules stands in its way. Currently passenger trains using the tunnel must be able to split in half and leave in separate directions in the event of an emergency.

The escape doors from the main tunnels to the emergency service tunnel that runs between them are 375 metres apart. A standard-length train could find itself stranded some distance from an escape door in a fire, forcing passengers to travel further on foot, possibly through smoke, to reach an exit. There have already been a number of fires in the tunnel.

Eurostar is the only passenger train operator that satisfies the safety regime. Its trains are owned by SNCF, the French state operator, London & Continental Railways of the UK or SNCB of Belgium, partners in the cross-Channel service.

An Inter-Governmental Commission on Channel tunnel safety is preparing the route to meet EU competition requirements. IGC UK secretariat head Terry Gates has said it was time to ask whether safety rules needed to be rewritten.
Eurotunnel spokesman John Keefe also said: "The simple position is that there is now open access for all high-speed train operators who have got equipment that meets safety requirements".

RMT has warned that the pressure from EU competition rules is already leading to safety being watered down. RMT members working for Eurostar recently passed a vote of no confidence in the company's senior management and have demanded assurances on the safe running of the service following the major breakdowns just before Christmas. During the disruption Train Managers were requested to work on a train alone in contravention of all safety rules.

The demonstration in Lille is an opening salvo of an international campaign against the creation of profit-hungry private rail monopolies and to demand that rail is publicly-owned, democratically-run and safe to use - current EU rules are a barrier to all three demands.