Democrat July-August 2011 (Number 124)
Norwegian tragedy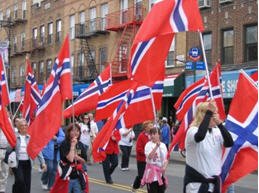 Despite the gun tragedy on the island of Utova, Norwegians remain committed to defend multiculturalism, social justice, anti-racism, and tolerance.
We send condolences to our friends in No to EU and Ungdom mot EU (Youth against EU), many of whom were on the island of Utøya during the horrendous gun attack.
Activists of the Workers' Youth League (AUF) were the main targets of the terror and died at this annual AUF summer camp on Utøya. One of those killed was a leader and active nationally against the EU's directive on postal services.
The Prime Minister addressed the crowd of 150,000 that came onto the streets of Oslo. He called for "tolerance in an open society". An AUF speaker said "Those gathered at Utova were fighting for justice, equality and against racism." He urged everyone to continue this struggle.
CAEF has had connections with No to EU in Norway and also worked with delegates of Youth against EU at TEAM events. CAEF has provided our material and the Democrat to assist the campaign to keep Norway out of the EU.   The best way for CAEF to act in solidarity with our Norwegian colleagues is to work harder here in Britain in memory of those killed and injured to uphold our common principles and objectives.
No to EU (Nei til EU)
TEAM - Alliance of EU critical organisations and movements